Corey's
1967

Page
---
An '05 Chevelle - From the Pages of Hot Rod Magazine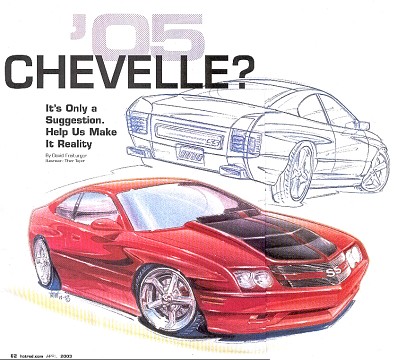 We like Bob Lutz. From what we hear, the GM Chairman of North American Operations ramrods stuff that, from a gearhead point of view, really needs to happen. Like the vaunted '04 GTO, based on the Australian Holden Morano CV8 and coming to America at the end of 2003. We also know that Lutz reads the car magazines. Add to the fact that the original GTO was born in the pages of a magazine (Car & Driver), and you can see the formation of today's mission
Hey, Bob. We need an '04 Chevy Chevelle SS. An '05 would do.
So here we present a vision of what the Monaro would look like with the proper tweaks to become the first Chevy Chevelle since the name was dropped for the 1977 model year. HOT ROD Associate Publisher Ed Zinke came up with the idea, and Thom Taylor put it to paper for us. The design is based on the Monaro substructure to keep it practical from manufacturing perspective. The fender bulges and front and rear treatments pick up '70 Chevelle cues while retaining a modern aesthetic to match the LSI, six-speed, and IRS. The execution is similar to that of the '05 Mustang concept we showed you last month, and for GM's sake, the Chevelle should be no more diffi­cult to produce than the GTO. Besides, the Chevelle marque has roughly the same history as the Goat, and with the Camaro gone, Chevrolet has little to offer the V-8, rear-drive, passenger car market. SSR won't fill the void, and many of us can't afford a Corvette, forcing the youth and the domestic performance enthusiasts to buy trucks or compacts. We know those are both good markets for Chevrolet, so we don't expect Monaro-Chevelles in mass quanti­ties-only 20,000 a year or so. But, Bob, it absolutely has to be affordable-like just over $20,000-and you can't let dealers mark them up over sticker price. Secondly, they have to run strong-somewhere faster than a Mustang GT and slower than a Z06 Corvette. Finally, we need to be able to work on them in our own garages; Chevrolet needs to release the computer coding, which we already know the compa­ny has done the R&D for, to work with an aftermarket GM Performance Products cam/header/intake combo for at least 400 rear-wheel horsepower. Read Zora's memo and you'll get the picture.
HOT ROD has an audited monthly reader­ship of 6.2 million readers, and virtually all of them agree that this car is needed. They overwhelmingly responded when we ran a poll asking if Jon Moss' V-8, rear-drive Monte Carlo should be produced (Feb. '96), and again when we revealed the Monaro SS Ute (Sept. '01). Will they all buy a new Chevelle SS? No. We're realistic about that. But we're also passionate about the heritage of American performance and the continua­tion of the Big Three's hometown rivalry being fought daily in the streets and the dragstrips of the nation. It was once said that what's good for Chevrolet is good for America. Selfishly, we want what's good for hot rodders to be good for Chevrolet. Help us out.
WANNA SEE THIS CAR BUILT?
If you agree that Chevrolet should build a new Chevelle SS along the lines of Thom Taylor's concept, write to HOT ROD and tell us why. We'll gather up all the input and forward it to Chevrolet, Here's how to get it to us:
Mail: HOT ROD, '05 Chevelle, 6420 Wilshire Blvd. Los Angeles, CA 90048
Fax: 323/782-2223
E-mail: hotrod@primedia.com (please put "'05 Chevelle" in the subject line)
HOT ROD APRIL 2003