Brakes / Suspension
Well, my first upgrade in this area was to install 1g Integra (86-89) rear disk brakes: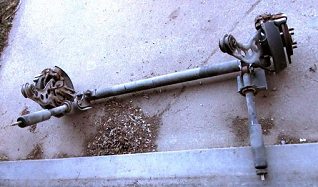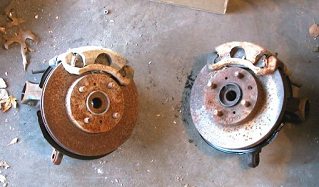 Since I am new to the imports, I drug the whole rear axle home from the salvage yard (rear springs are already off in the photo), and grabbed the whole front spindles, too. As you can see everything was pretty crusty! I drug all the parts over to the trusty grit blaster and went let it fly. I decided that since I was going to the trouble of cleaning everything up, it was getting a total rebuild, too. This included all the seals on both the front and rear calipers, new wheel bearings, brake lines, etc.

---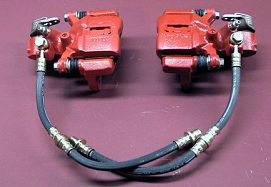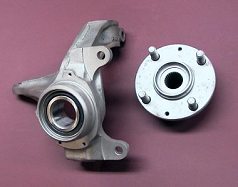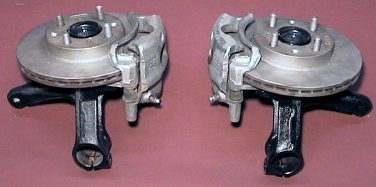 The rear brake swap was fairly straight forward with a few little surprises. See the complete guide here

---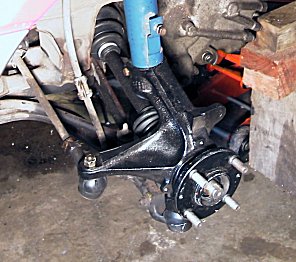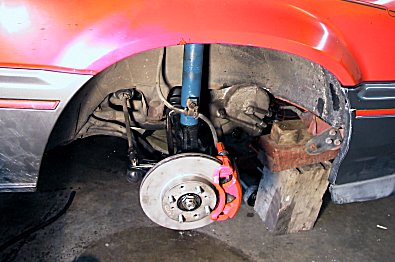 The front end got all new 89 Integra stuff when the B was dropped in... wheel bearings, rebuilt calipers, brake pads, ball joints, rubber dust boots, new struts. I have also located a company, Suspension Techniques, that makes anti-sway bars for 1G CRX's...so, Santa, if you read this...

---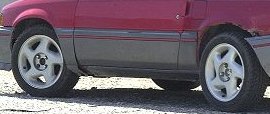 The alloy wheels were swiped from a junkyard 91 Geo Storm because they carry the 15x6 rim size with 4x100 lug pattern. I wrapped them with Pirelli P7000 195 / 50 ZR 15's. So far, I love the wheel tire combo. My only thought is now that the B is in, it seems like I am reving about 3500 RPM at 65-70 MPH. This car sees probably 80% highway miles, so I am curious what acceleration I would give up by running a 60 series tire to help drop the cruise RPM's some. I guess the B was built to rev, though!