Halloween 2001
---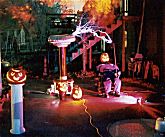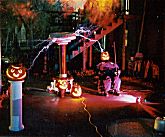 Click either picture for a bigger version
---
I put together a small "haunt" for the Halloween kiddies again this year. My girlfriend and I carved up about a dozen pumpkins and scattered them throughout the yard. A sign written in blood red paint sat in the front yard and said "Our treats are in the back, follow the path if you dare" As the kids followed the path lit with pumpkins, black lights and strobe lights, they came around the house to find the scenes above.

The pictures are a bit deceptive as it didn't appear that bright actually standing there, but you get the idea. I closed the spark gap a bit on the coil to cut some of the power as we were going to be running pretty long. It still managed to do about 50 inches or so despite the 25 MPH wind. If you click the larger version, you will see "Mr. Pumpkinhead" holds a patio torch in his left hand. I had hoped to arc the coil to the torch and light it, but gave up on this thought when I couldn't even get it to light with a lighter!

The coil ran great all night long, although it did exhibit some strange behavior toward the end of the night. When I would turn on the power, it seemed like it took several seconds for the arcs to build to full length, then after about 10 seconds at full power, they would diminish again. At first, I thought the spark gap might be overheating, but I found that even once the sparks diminished, if I backed the power down to 75% or so for about 10 seconds, then went back to full power, the sparks would return for about 10 seconds, then go away again. By the end of the night I was too tired to do much trouble shooting, but I did notice that the spark gap had a heavy oxide coating and some of the elements were a bit loose so this might have been the cause. No components appear to be damaged, so we'll see what happens next time!

We had a fun time and made lots of sparks, but only about 11-12 kids showed up all night and a couple of those were young enought that I didn't even hit the high voltage. This was our first Halloween in the house and from talking to the neighbors, there are generally not a lot of trick-or-treaters. Maybe we will get some repeat business next year!