OK, here is the scoop... The CRX is great! It's a blast to drive..cops really don't look at it and thieves don't want it either...sort of a peaceful coexistence. Mechanically, it has performed flawlessly. But...I left work on Friday, July 18th...The air temp is about 104°F, heat index is 118ºF. I still hadn't changed from the stock CRX radiator, and some of the cooling fins had blown back into the electric fan and caused it to seize. As I sat at a stoplight with the coolant temp needle hovering at 220°F and the heater on High, blowing all that "warm" air right back in my face and adding to the already scorching hot air temps, I started to think...there has to be something better...maybe with Air Conditioning!!
I really love the CRX format in general, two seats and lots of cargo room. But even the latest models are over a decade old and many going on 100,000 to 150,000+ miles. As small plastic part began to melt inside the CRX I started thinking about what other platforms were available for some mods. Civic...nice, but common...Prelude...Integra...again, nice but don't offer the "CRX mystique" What about that Insight? Basically a 21st century CRX HF! But I want a 21st century CRX Si (and then some!) I began to think about what it would take to get a B series engine in the insight...about 1000 items popped up as immediate red flags:
Electric Steering, Electric brakes, aluminum frame...throw away the MIG welder, room between the frame rails, Frankenstein axles to mate the tranny to the spindles, 1.0L gas motor gone, electric IMA motor gone, battery and power controls gone...and on and on. Granted, these are not insurmountable...it's only metal for cryin' out loud, but the trick is to do it and have daily driver reliability and smoothness, and most of all AC!!
I was almost ready to scrap the whole plan as hopelessly complex, but then I got out Paint Shop Pro and started toying around with some pictures....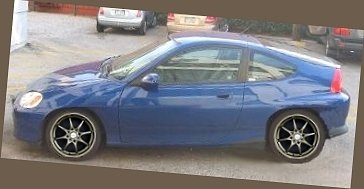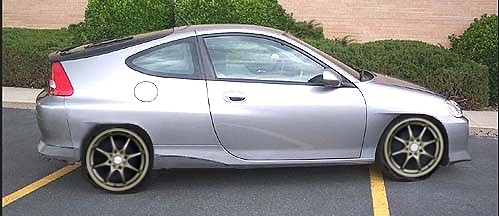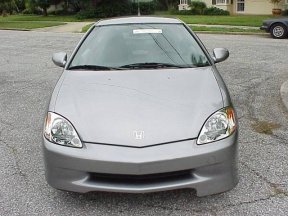 This got me motivated. I think that with a few mods...most notably, getting rid of those wheel skirts, possibly adding a front air dam and some additional ground effects, the Insight could pass for a half way decent car! I have a ton of research to do, but I actually caught myself looking through some For Sale ads the other day...scoping out potential Insight's! Ahhh...just the though of getting my hands on that high technology and scrapping it! We will just have to see what the future holds!