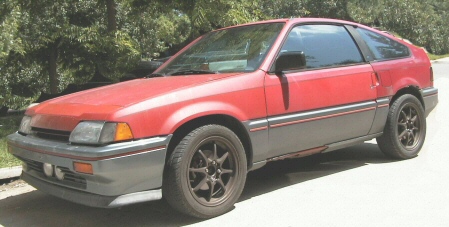 It's Alive! - 50,000 miles and counting!
Design goal - Junkyard Wars meets JDM. A ratty, mostly stock looking CRX on the outside,
with a heart of B16A power under the hood
Engine (B16A Swap!) / Automatic Transmission
Part 1 - Why Swap
Part 2 - My Ebay Find
Part 3 - Out with the Old
Part 4 - In With the New
Part 5 - Hooking it all Up
Part 6 - Still not working
Part 7 - It's Alive - Ironing out the details
Part 8 - J. Davis to the Rescue
Part 9 - The Shake-Down Runs
Part 10 - "Glamor" Shots
Future Possibilities...A B16 / B18 in a Honda Insight?!?
Specific Areas of Interest
Brakes / Suspension / Wheels / Tires
Paint / Body / Add-on's
Interior
Info
Interesting CRX Links / B16A Info / Wiring Diagrams by me and others
Guide for 1G CRX Drum Brake to 1G Integra Disk Brake Swap
Guide to homemade motor mounts
Guide to wire splices
Guide to 4-wire O2 conversion
Closing Thoughts
E-mail me if you have questions about the car.
---